Product Summary
The KSZ8995MA is an integrated managed switch. It also provides an extensive feature set such as tag/port-based VLAN, quality of service (QoS) priority, management, MIB counters, dual MII interfaces and CPU control/data interfaces to effectively address both current and emerging Fast Ethernet applications. Its applications include Broadband gateway/firewall/VPN, Integrated DSL or cable modem multi-port router, Wireless LAN access point plus gateway, Home networking expansion, Standalone 10/100 switch.
Parametrics
KSZ8995MA absolute maximum ratings: (1)supply voltage: -0.5 to 2.4V; (2)input voltage: -0.5 to 4V; (3)lead temperature: 270℃; (4)storage temperature: -55 to 150℃; (5)output voltage: -0.5 to 4V.
Features
KSZ8995MA features: (1)Integrated switch with five MACs and five Fast Ethernet transceivers fully compliant to IEEE 802.3u standard; (2)Shared memory based switch fabric with fully nonblocking configuration; (3)1.4Gbps high-performance memory bandwidth; (4)10BASE-T, 100BASE-TX, and 100BASE-FX modes (FX in ports 4 and 5); (5)Dual MII configuration: MII-Switch (MAC or PHY mode MII) and MII-P5 (PHY mode MII); (6)IEEE 802.1q tag-based VLAN (16 VLANs, full-range VID) for DMZ port, WAN/LAN separation or inter-VLAN switch links; (7)VLAN ID tag/untag options, per-port basis.
Diagrams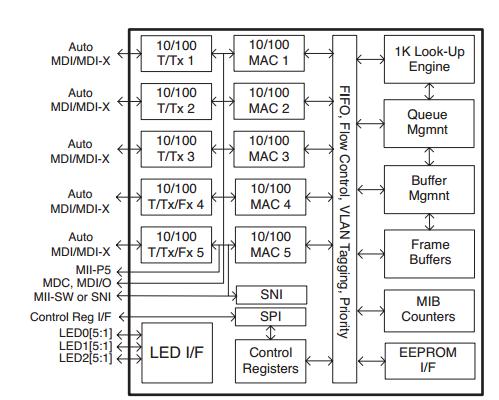 Image
Part No
Mfg
Description
Pricing
(USD)
Quantity

KSZ8995MA



IC SWITCH 10/100 5PORT 128PQFP

Data Sheet



| | |
| --- | --- |
| 0-1: | $5.68 |
| 1-25: | $4.54 |
| 25-100: | $3.83 |
| 100-250: | $3.69 |
| 250-500: | $3.60 |


KSZ8995MA4



IC SWITCH 5-PORT 10/100 128PQFP

Data Sheet

Negotiable

KSZ8995MAI



IC SWITCH 5-PORT 10/100 128PQFP

Data Sheet



| | |
| --- | --- |
| 0-1: | $7.27 |
| 1-25: | $6.54 |
| 25-100: | $5.80 |
| 100-250: | $5.56 |
| 250-500: | $5.45 |


KSZ8995MAIB3



IC SWITCH 5-PORT 10/100 128PQFP

Data Sheet

Negotiable

KSZ8995MAB3



IC SWITCH 5-PORT 10/100 128PQFP

Data Sheet

Negotiable

KSZ8995MA-EVAL



BOARD EVAL EXPERIMENT KSZ8995MA

Data Sheet



KSZ8995MAL



IC SWITCH 10/100 5PORT 128PQFP

Data Sheet

Negotiable