Product Summary
The PIC16F628A-I/SO is a CMOS Microcontroller. The PIC16F628A-I/SO is 18-Pin FLASH-based members of the versatile PIC16CXX family of low cost, high performance, CMOS, fully-static, 8-bit microcontrollers. The PIC16F628A-I/SO has integrated features to reduce external components, thus reducing system cost, enhancing system reliability and reducing power consumption. The PIC16F628A-I/SO has 8 oscillator configurations. The single-pin RC oscillator provides a low cost solution. The LP oscillator minimizes power consumption, XT is a standard crystal, and INTOSC is a self-contained precision two-speed internal oscillator. The HS is for High-Speed crystals. The EC mode is for an external clock source.
Parametrics
PIC16F628A-I/SO absolute maximum ratings: (1)Ambient temperature under bias : -40 to +125℃; (2)Storage temperature : -65 to +150℃; (3)Voltage on VDD with respect to VSS : -0.3 to +6.5V; (4)Voltage on MCLR and RA4 with respect to VSS : -0.3 to +14V; (5)Voltage on all other pins with respect to VSS : -0.3V to VDD + 0.3V; (6)Total power dissipation : 800 mW; (7)Maximum current out of VSS pin : 300 mA; (8)Maximum current into VDD pin : 250 mA; (9)Input clamp current, IIK (VI < 0 or VI > VDD) : ± 20 mA; (10)Output clamp current, IOK (Vo < 0 or Vo >VDD) : ± 20 mA; (11)Maximum output current sunk by any I/O pin : 25 mA; (12)Maximum output current sourced by any I/O pin : 25 mA; (13)Maximum current sunk by PORTA and PORTB (Combined) : 200 mA; (14)Maximum current sourced by PORTA and PORTB (Combined) : 200 mA.
Features
PIC16F628A-I/SO features: (1)Power saving SLEEP mode; (2)Programmable weak pull-ups on PORTB; (3)Multiplexed Master Clear/Input-pin; (4)Watchdog Timer with independent oscillator for reliable operation; (5)Low voltage programming; (6)In-Circuit Serial ProgrammingTM(via two pins); (7)Programmable code protection; (8)Brown-out Reset; (9)Power-on Reset; (10)Power-up Timer and Oscillator Start-up Timer; (11)Wide operating voltage range. (2.0 - 5.5V); (12)Industrial and extended temperature range.
Diagrams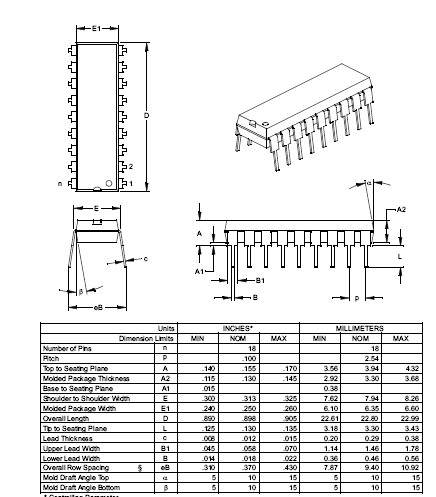 Image
Part No
Mfg
Description
Pricing
(USD)
Quantity

PIC16F628A-I/SO

Microchip Technology

8-bit Microcontrollers (MCU) 3.5KB 224 RAM 16 I/O

Data Sheet



| | |
| --- | --- |
| 0-1: | $1.34 |
| 1-10: | $1.07 |
| 10-25: | $1.03 |
| 25-100: | $0.99 |

Image
Part No
Mfg
Description
Pricing
(USD)
Quantity

PIC1018SCL

Other



Data Sheet

Negotiable

PIC10F200

Other



Data Sheet

Negotiable

PIC10F200-E/MC

Microchip Technology

8-bit Microcontrollers (MCU) 384B Flash16B RAM 4 I/O

Data Sheet



| | |
| --- | --- |
| 0-1: | $0.36 |
| 1-10: | $0.29 |
| 10-25: | $0.26 |
| 25-100: | $0.24 |


PIC10F200-E/OT

Other



Data Sheet

Negotiable

PIC10F200-E/P

Microchip Technology

8-bit Microcontrollers (MCU) U 579-PIC10F200-I/P

Data Sheet

Negotiable

PIC10F200-I/MC

Microchip Technology

8-bit Microcontrollers (MCU) 0.375KB Fl 16B RAM

Data Sheet



| | |
| --- | --- |
| 0-1: | $0.33 |
| 1-10: | $0.26 |
| 10-25: | $0.25 |
| 25-100: | $0.22 |