Product Summary
The BYG10Y is a standard avalanche SMD rectifier. For use in general purpose rectification of power supplies, inverters, converters and freewheeling diodes for consumer, automotive and telecommunication.
Parametrics
BYG10Y absolute maximum ratings: (1)device marking code: 1600V; (2)Maximum repetitive peak reverse voltage: 1.5A; (3)Peak forward surge current 10ms single half sine-wave superimposed on rated load: 30A; (4)pulse energy in avalanche mode: 20mJ; (5)operating junction and storage temperature range: -55 to 150℃.
Features
BYG10Y features: (1)Low profile package; (2)Ideal for automated placement; (3)Controlled avalanche characteristics; (4)Glass passivated junction; (5)Low reverse current; (6)High surge current capability; (7)Meets MSL level 1, per J-STD-020, LF maximum peak of 260℃.
Diagrams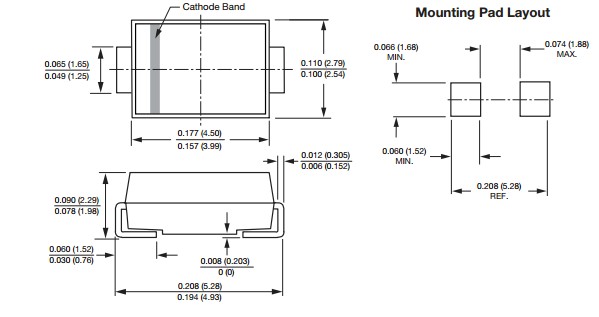 Image
Part No
Mfg
Description
Pricing
(USD)
Quantity

BYG10Y

Other



Data Sheet

Negotiable

BYG10Y/TR

Vishay Semiconductors

Rectifiers 1.5 Amp 1600 Volt

Data Sheet

Negotiable

BYG10Y/TR3

Vishay Semiconductors

Rectifiers 1.5 Amp 1600 Volt

Data Sheet

Negotiable

BYG10Y-E3/TR

Vishay Semiconductors

Rectifiers 1.5 Amp 1600 Volt

Data Sheet



| | |
| --- | --- |
| 0-1: | $0.32 |
| 1-50: | $0.22 |
| 50-100: | $0.19 |
| 100-500: | $0.14 |


BYG10Y-E3/TR3

Vishay Semiconductors

Rectifiers 1.5 Amp 1600 Volt

Data Sheet



| | |
| --- | --- |
| 0-1: | $0.19 |
| 1-10: | $0.17 |
| 10-50: | $0.16 |
| 50-100: | $0.15 |