Product Summary
The ATMEGA8-16PU is an 8kbytes in-system programmable flash. By executing powerful instructions in a single clock cycle, the ATMEGA8-16PU achieves throughputs approaching 1MIPS per MHz, allowing the system designer to optimize power consumption versus processing speed.
Parametrics
ATMEGA8-16PU absolute maximum rating: (1)operating temperature: -55 to 125℃; (2)storage temperature: -65 to 150℃; (3)voltage on any pin except RESET: -0.5 to VCC+0.5V; (4)maximum operating voltage: 6V; (5)DC current per I/O pin: 40mA; (6)DC current VCC and GND pins: 300mA.
Features
ATMEGA8-16PU features: (1)High-performance, Low-power Atmel AVR 8-bit Microcontroller; (2)Advanced RISC Architecture; (3)High Endurance Non-volatile Memory segments; (4)Peripheral Features; (5)Special Microcontroller Features; (6)Power Consumption at 4Mhz, 3V, 25°C.
Diagrams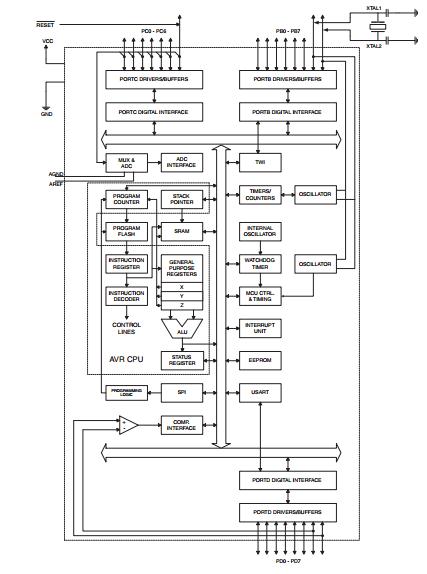 Image
Part No
Mfg
Description
Pricing
(USD)
Quantity

ATMEGA8-16PU

Atmel

8-bit Microcontrollers (MCU) 8kB Flash 0.5kB EEPROM 23 I/O Pins

Data Sheet



| | |
| --- | --- |
| 0-1: | $2.20 |
| 1-10: | $1.83 |
| 10-25: | $1.37 |
| 25-100: | $1.24 |

Image
Part No
Mfg
Description
Pricing
(USD)
Quantity

ATMEG163POD



IC AVR MCU ICE30 40PIN MEGAAVR

Data Sheet

Negotiable

ATmega103

Other



Data Sheet

Negotiable

ATMEGA103-6AC

Atmel

8-bit Microcontrollers (MCU) TQFP-64 128K FLASH 5

Data Sheet

Negotiable

ATMEGA103-6AI



IC MCU 128K 6MHZ A/D IT 64TQFP

Data Sheet

Negotiable

ATMEGA103-6AU

Other



Data Sheet

Negotiable

ATmega103L

Other



Data Sheet

Negotiable